How we grow our Roses
Despite the 21st century advances in technology, the method employed for cultivating roses has changed little over the years. Shown below are details on the "T" budding process we follow at Rumwood Nurseries to cultivate our roses. As Kent's largest rose grower, the process below is repeated many, many times every year.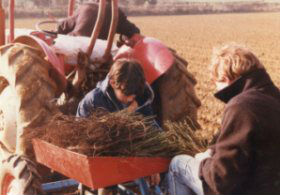 1. Work to plant the root stock starts, weather permitting, in February.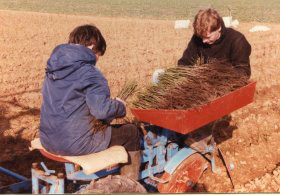 2. The planter is pulled behind a tractor with root stocks inserted by hand into grips that push the plants into the soil. A ridge of soil is then formed to keep the stocks in place.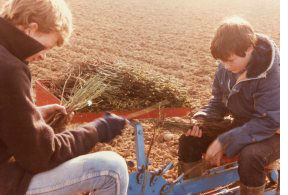 3. On an average day, 10,000 stocks can be planted in this way.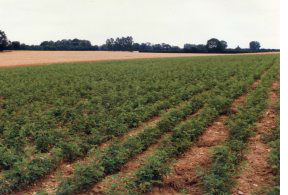 4. Once planted the stocks remain here until the budding season starts.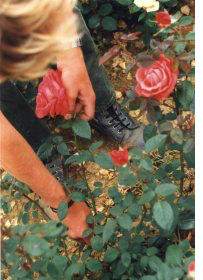 5. Budwood is collected off of the previous years' budded stocks in June/July using a sharp knife or secateurs.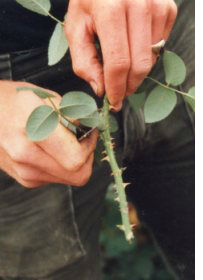 6. Once cut, the rose's budwood sticks are trimmed. On average there are five buds on a stick, although the quantity can vary depending upon the cultivar.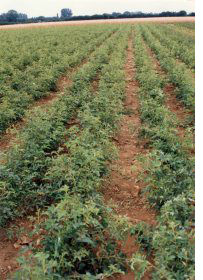 7. The soil ridge covering the root stocks is removed by a brushing machine.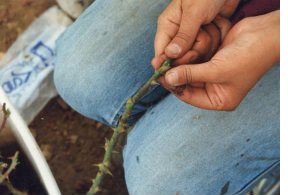 8. The budwood has to be prepared ready for use which involves removing all thorns by hand. This is to avoid damaging the bud.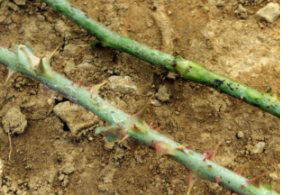 9. This picture shows sticks before and after dethorning.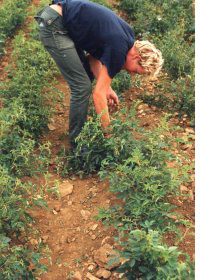 10. The type of budding performed on roses is call "T" budding. The first step is for the budder to tread on the tops of the stock to expose the stem.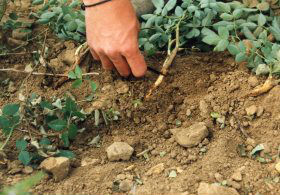 11. Holding the knife firmly, the budder rolls the blade horizontally around one side of the stock.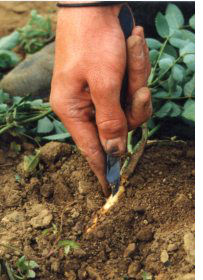 12. With the finger acting as a guide running along the side of the stock, the knife is run vertically up to the horizontal cut, thus forming the "T". The knife is then gently moved side to side to slightly open the top of the "T".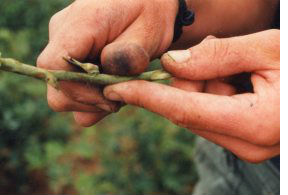 13. The budder then takes the bud stick and cuts into the stick just below the bud.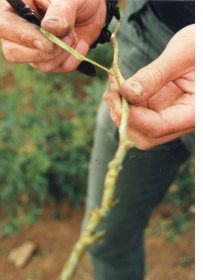 14. Once the knife has cut beneath and beyond the bud he knife is pulled upwards to produce a tail.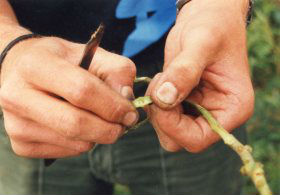 15. This picture shows the bud with a sliver of wood removed to show the inside of the bud.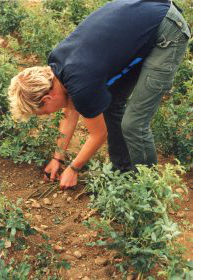 16. The bud is then inserted into the "T" shaped slot on the stock.
17. The knife is then used to cut off the tail at the "T" to form a neat "T" with the bud inserted.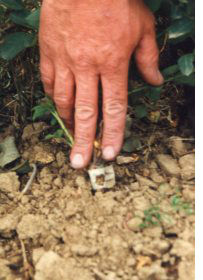 18. A special rubber tie is used to keep the bud in place. This completes the budding operation.
In February/March following the budding season the stock is trimmed back to the budder's "T". The bud starts growing in April and is trimmed to a single shoot, as necessary, in May. From mid-June to late August, budwood is collected off of the crop for use with the next crop of roses.